Change4Life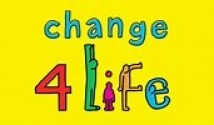 What is Change4Life?
These days, 'modern life' can mean that we are a lot less active. With so many opportunities to watch television or play computer games, and with so much convenience and fast food available, we do not move about as much, or eat as well as we used to.
Change4Life Sports Clubs are exciting places to be! They offer a new type of club opportunity for children by building confidence and competence for lifelong participation in physical activity. Change4Life Sports Clubs have a significant impact on the physical activity levels of the young people involved and their attitudes towards being active and healthy.
Our Change4Life club is led by our year 2 Sports Leaders under the direction of school staff. The club runs every Thursday lunchtime and is open to all St Joseph's Year 1 and 2 pupils, although places are limited.
Visit the link below where you can find out more about Change4Life and maybe sign up as a family!
You might like to download the new sugar smart app that has been advertised recently on television and see the number of sugar cubes in everyday food and drink. You would be surprised just how many there are!
https://www.nhs.uk/healthier-families/food-facts/sugar/#fs-app

Take a look at the Clubs gallery to view the fun!