E-Safety
At St Joseph's, we take E-Safety very seriously.  We believe that all children have the right to feel safe and secure when using technology.  
We teach children to use the Internet and other technologies safely, and we show them how to behave in an appropriate manner.   The children know what to do if they feel uncomfortable with anything they see or hear online. 
Be SMART on the Internet Rules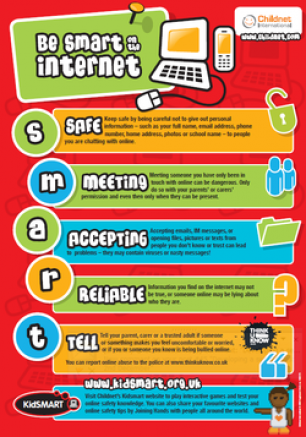 As part of the school curriculum we cover internet safety at age appropriate levels and you can find out more about keeping your child safe online at sites like the ones below.
For more information on Internet Safety for your child, please visit 
https://www.nspcc.org.uk/preventing-abuse/keeping-children-safe/online-safety/ or
The Adventures of Kara, Winston and the SMART crew series of E-Safety videos have been shared with the children during assemblies. To view these videos please visit www.childnet.com