'St
Joseph's Guardians'
This is our School and Eco Council that is elected by the pupils each year. It gives the children the chance to have a voice about issues that affect them and encourages them to work together as part of the school community to find solutions to things that affect all of us.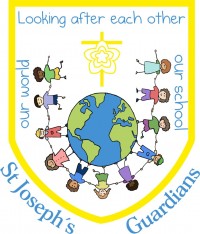 The name and logo for this group was designed, and voted for by the children of the school and everyone agreed that the winning entry summed up the ethos and passion of the staff and children. 
The competition winners were presented with a T-shirt printed with the new logo.  The children were delighted with their prize!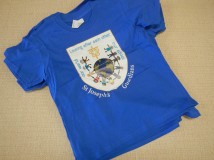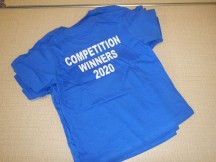 At St Joseph's Catholic Infant School we encourage the children to consider the gift of God's Creation and how we need to look after all aspects of our planet.                                                                                                   

The 'St Joseph's Guardians' will work together to discuss important ecological issues such as:-
Saving energy

Reducing litter

Recycling

Health and Travel

Biodiversity

Our School Grounds

Global Perspectives

Pupil Participation


How does our school support these issues?
We actively encourage healthy and environmentally friendly travel to school through our travel initiatives such as the Walk Once a Week (WoW) scheme.  

 Activities and projects at school  

The St Joseph's Guardians are looking to work towards becoming an Eco-school.